Why are we raising money for Children's Cancer Research Fund? Because they are on a mission to find a CURE.
We have a long way to go to meet our huge goal — to reach $100,000 in lifetime fundraising — so once again, we're offering a gift to one lucky donor who donates $100 or more between now and MIDNIGHT SUNDAY 6/5.
This week, we're giving away 2 tickets to see The Cure at Xcel on Wednesday 6/7. The Cure for a CURE!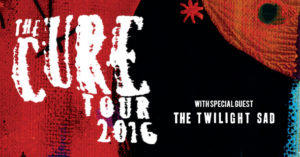 EVENT: The Cure
DATE: Tuesday, June 7 at 7:30pm
LOCATION: Xcel Energy Center
NUMBER OF TICKETS: 2 (Section 113 — value of $70/each)
HOW TO ENTER THE DRAWING FOR THESE TICKETS
Go to the Donate page and make your donation of $100 or more before midnight Sunday 6/5
Send us an email at joggersforjulian@gmail.com to let us know you are interested in the tickets
We'll announce the winner on Monday 6/6